Learning Credit Points (LCP)
Easy and clever training management
Your custom, proactive and dynamic learning management strategy.
At the Unify Academy, we understand it can be a challenge to predict your exact training requirements when planning a project or budgeting your needs for a new financial year. Learning Credit Points (LCP) make it easier for you to plan, purchase, book, and report our training courses. With LCP you gain the freedom to manage your courses and align your training budget to your business requirements and cycles - without committing to a long-term plan. Simply purchase a package of LCP and use these to book our courses once your need is clearly defined.
Your benefits include


Practical Planning

With LCP you gain the freedom of being able to make a one-time purchase of credit points at a time that is convenient for you, confident you can redeem these whenever you need to.

Flexibility

Planning for individual training events now becomes as dynamic and customized as your business requires, even if the project is re-scheduled or runs at the end of the fiscal year.

Simpler Administration

There is just one ordering, billing and management process for your LCP.
How do LCP work?
More freedom and flexibility
With LCP we've made it very straightforward for you to book the training your people require at the precise time they need it. Including our classroom training and webinars LCP can be used for most Academy courses - depending on regional offers. You can purchase LCP straight from our website, from you Unify sales contact or via the Unify Academy hotline. LCP can be transferred flexibly to individual employees.
Easier than ever
How do you purchase and redeem LCP?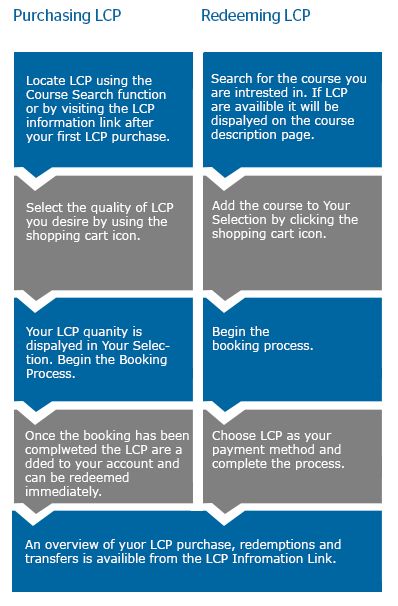 How to purchase LCP

Please select your country from the drop-down menu to the top right. As a second step enter 'LCP' into the course search right below the country selection. If LCP are available in your country, you will be directed to a list from which you can book the desired amount of LCP.

You can also contact us via email at academy.exc@atos.net.


FAQ
Where can I learn more about the LCP program?

Please visit the LCP page for more information:
In what amounts can I purchase LCP?

LCP can be purchased in increments of 1.
Can I also purchase larger amounts of LCP?

You can purchase any amount of LCP you like.
How much does a training course cost in LCP?

The value of a training course in LCP will be shown directly below the price in Euro or Dollar.
Which training courses can I pay with LCP?

As long as a course displays the LCP cost, it can be paid with LCP.
When do I see the LCP information link in my profile?

The LCP information in your profile is visible as soon as you have received LCP for the first time. The LCP information link gives you an overview of your LCP purchases, redemptions and transfers.
Can I buy LCP with LCP?

No, the purchase of LCP with LCP is not allowed.
When can I use my LCP for the first time?

You can use your LCP immediately after the acquisition or transfer and our credit check.
How long are the LCP valid?

The LCP validity is dependent on regional / country specific offers. Please check your local policies on our website or get in touch with your local contact person.
In which countries do I get LCP and where can I use it?

The LCP solution is available in Germany, Austria and the United States.